Helio Cloud + Scene Manager
Scene Manager integrates seamlessly with Helio and lets you submit cloud renderings effortlessly with only a few clicks.
Prepare your scene settings and use them during rendering
With the scene manager, you can organize essential settings scattered throughout 3ds Max, bring them together in a unified interface and use the settings automatically during rendering.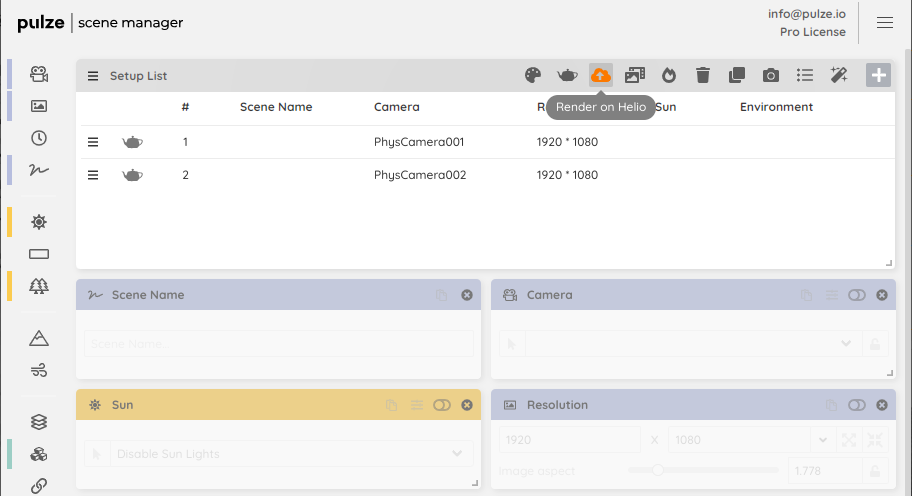 Plugin cross-checks reduce render errors by 3x
Scene Manager will cross-check all 3rd party plugins used, so there won't be any compatibility surprises. It will also notify you if your current plugin version is different or missing.

Save and submit scenes seamlessly to the cloud and save time + money
Packaging scenes improve render times and thereby lower costs by only including the assets, textures, and plugins which are really needed for the cloud rendering.

No repetition, focus on your work
Configure your scene, cams, resolution, assets, textures in one unified interface and use them for the rendering in the cloud. Changed settings in the scene are always synced. You can quickly overwrite the render settings if needed before submitting the job to the cloud.
Render
Submit renderings out of scene manager with a few steps and get your results.
What You Need And More
Explore the features that enable you to work and collaborate better and get your renderings done. How Helio manages your cloud infrastructure, gets your projects done faster, and allows your teams to collaborate worldwide, while lowering emissions.
No extra costs
And the best part: You can use your Pulze Scene Manager license with Helio Cloud Rendering and get started today without any extra cost.